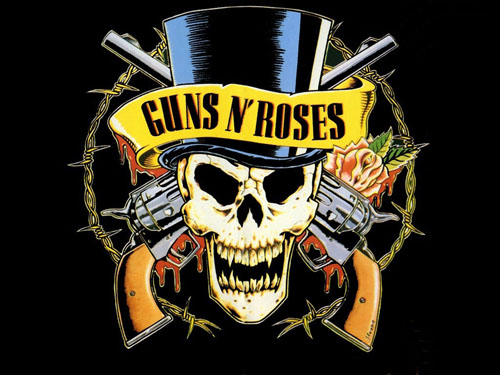 This logo reminds me of my school days
Chinese democracy, in my opinion, is the most awaited album in the history of music. This album by Guns N' Roses is still on its way to go public and make people crazy with their music and lyrics. It's been a decade we heard Spaghetti Incident, the last album of Guns N' Roses. All over the world, I guess Guns N' Roses' craze is not over yet. People still love Axl Rose; they like to attend his concerts even after he is the only original man present in the band.
One question that comes in my mind is when is it going to be released? Is it just a hoax? Every time the release date is being shifting by year.  When are you guys going to be back with Chinese Democracy?
I don't think it is a hoax now. They have already release couple of the songs, the one upcoming soon is "Shackler's Revenge" through the MTV game "Rock Band 2″ and even  There have been some song leaks from this album and some of them are "Chinese Democracy", "There was a Time", "The Blues" and another, more recent version of "I.R.S." Couple of month ago, one of the bloggers was arrested for posting nine of the lyrics from the unreleased album Chinese Democrary.
Hey Mr. Axl Rose, when are you going to fix the exact date of this most awaited album? All your fans are waiting for that day when they can hear your new songs. We hope you have all the taste that you guys gave us 2 decade ago in the album form of; 1987: Appetite for Destruction, 1988: G N' R Lies, 1991: Use Your Illusion I, 1991: Use Your Illusion II, 1993: "The Spaghetti Incident".
Don't make us wait anymore. You guys still rock. I still love to hear and sing the songs like Sweet Child O mine, November Rain, Welcome to the Jungle, I used to love her and many more.
Before the bad guys hack it all and release your songs one by one, please do release them at once so that we get a real taste of Guns N' Roses one more time after two decade. Give them another opportunity to take a dip down in your music.
At last, I hope all your fans will not have to listen that the release date has again been postponed once again to 2009. Billboard claimed Chinese Democracy will be released on November 23, exclusively through Best Buy in the USA.
Here are some legacy of Guns N' Roses:
Appetite for Destruction was the second highest-selling debut album of all time.
Use Your Illusion I and Use Your Illusion II  both the albums debuted at #2 and #1 respectively in the Billboard charts at once (they were released together), setting a record as they became the first and only group to date to achieve this feat. The albums spent 108 weeks in the chart.
Q magazine named Guns N' Roses in their list of the "50 Bands to See before You Die".
The television network VH1 ranked Guns N' Roses ninth in its "100 Greatest Artists of Hard Rock" special, and also ranked 11th on "Top 50 bands".
Appetite for Destruction appeared in the Rolling Stone Magazine special issue "The 500 Greatest Albums of All Time". In 2004, Rolling Stone ranked Guns N' Roses #92 on their list of the "100 Greatest Artists of All Time".