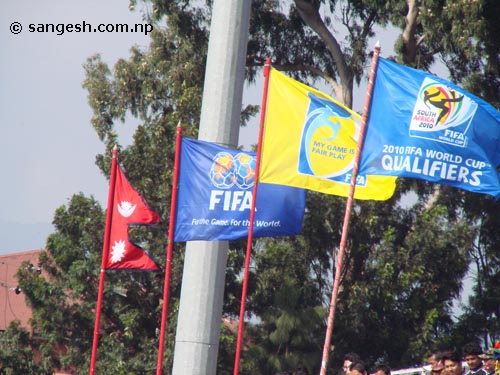 After long interval of time, we Nepali football fans got an opportunity to support our National team at our national stadium. Most of the fans were excited to watch and support the national team. It was a 2010 FIFA world Cup Qualifier 2nd League game between Nepal and Oman. The last time I went to support our national team was in SAF Games may be a decade ago. I was excited to see the game and chant for nation team.

The scenario was colorful, lots of Nepalese fan were there, even some foreigner with Nepal's flag. Today for the first time I heard our revolutionary type national anthem at public place. Let's not discuss here why I called out new national anthem revolutionary type. May be in my later blogs I will write about it.
Since Nepal just conceded 2 goals in 1st leg game that was played in Oman we expected a good game from Nepal this time at home ground.Looking at the game, Nepal's defense has really improved but it lacks players like Raju shakya who can throw in the out ball at D area, Dribbling champs like Mani Shah who can carry ball inside the D area of the opponent and active defender like Dev Naryan but I see some hope in this new youth squad.
Many of the guys in this new squad have been playing football form child hood with proper training under qualified coaches, so they have many technical idea. I hope this national squad improves their performance in future though today once again we had to return empty handed.
we know our teams standards we expected a good fight back from our team, but our team still misses some spices specially the forward line have to improve , we have to praise the defense line who did not gave a single free ball. The goals we conceded were because of our bad luck, it was not good goals, but at last goals counts.
Our team itself plays in a mentality to concede less goals, hope from next time they will build up their spirits and plays like real warriors, like Gurkha Army and not only try to concede less goals but with a positive thinking that we can do it we can win it.
Today we were looking for at least a goal from our side to cheer up. Any way our dream of seeing a good performance of Nepali team against the best Asian side till now have been scattered, let's hope to see good performance in near future. If Maldives can hold South Korea to draw at their home ground, Hope Nepal will win at least some 2nd grade Asian teams in near future and we all Nepali fan can cheer up once again like we did long before at SAF Games where all Nepalese enjoyed the win thought we lost the final to Bangladesh, we still remember Late Prince Dipendra went to ground and gave a warm hug to all Nepali footballer and that hug really boost up Nepali Team Spirit.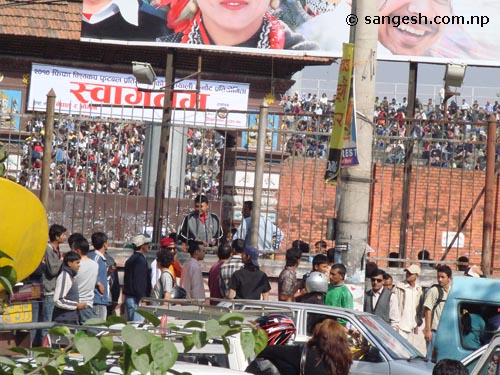 National Stadium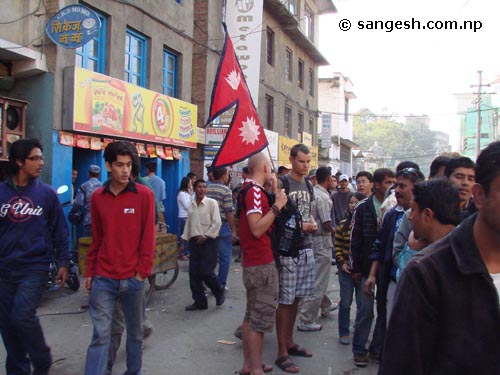 Danish Nepali Fan with Nepali Flag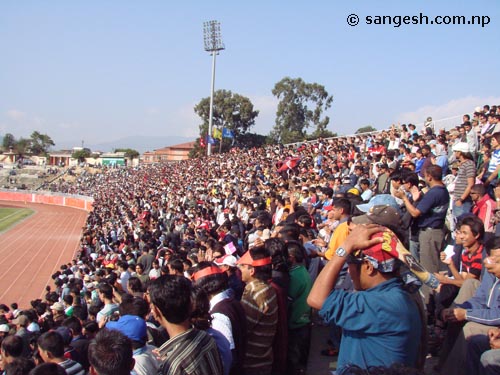 Crowds inside the stadium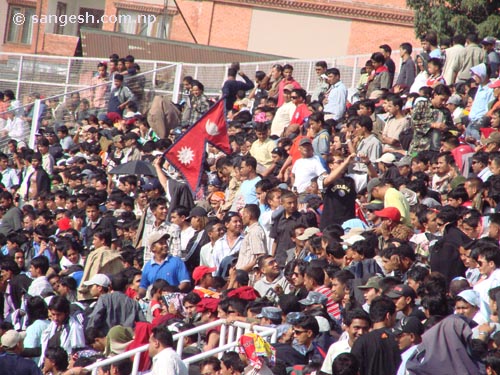 People with Nepali Flag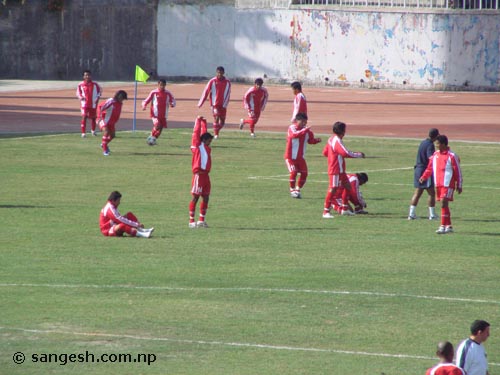 Nepali Team warmups before the game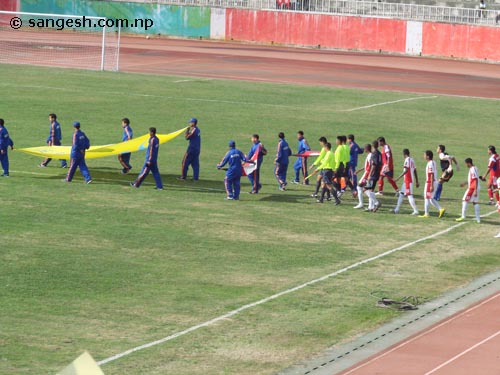 Players entering the field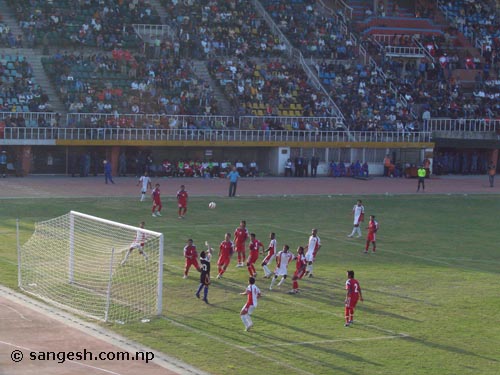 Attemp on goal by Oman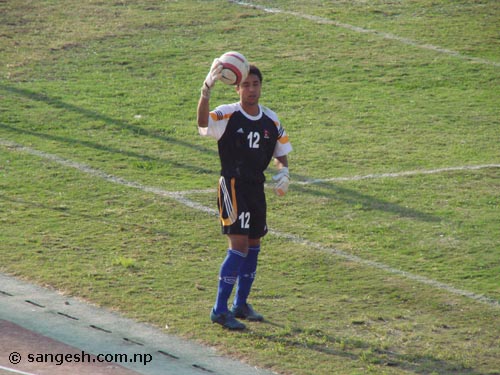 Goalkeeper of Nepal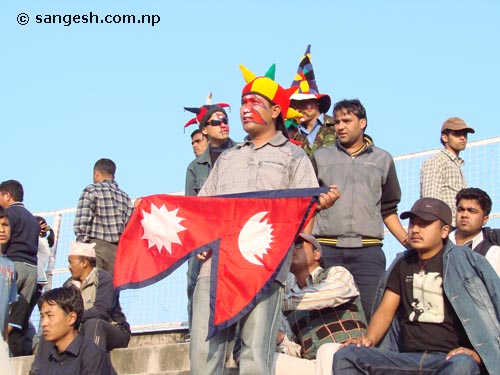 Nepali Fans with Crazy Hats, flags and painted face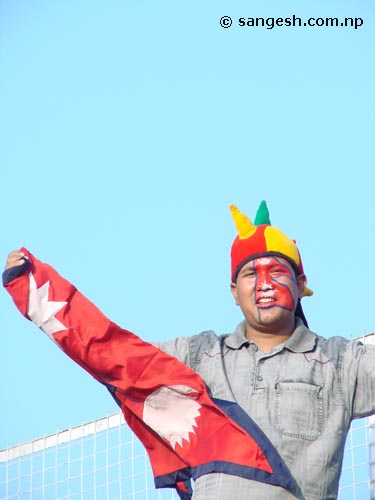 Frustrated Nepali fan waving our National Flag with Pride ( recently in terai few people who want different country in terai burn our Nationa Flag, it is really bad to hear, we love our Nation and National Identity)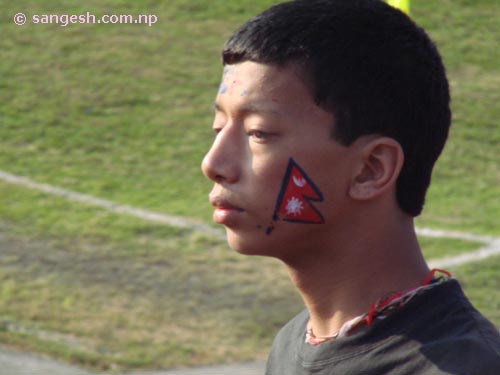 Proud to be a NEPALI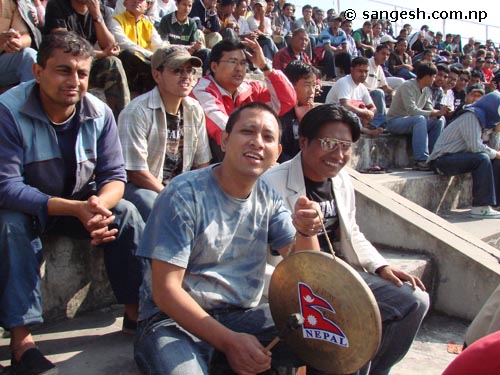 Crowds with musical instrument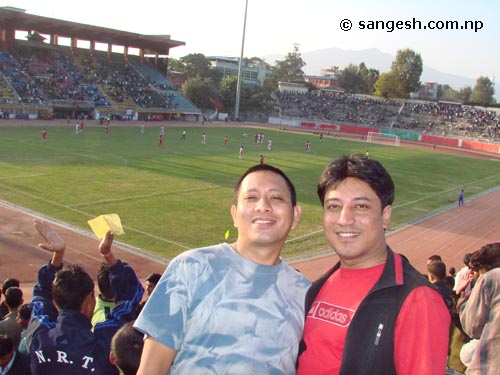 Ground Looks nice now a days it is green, ANFA is trying it's best.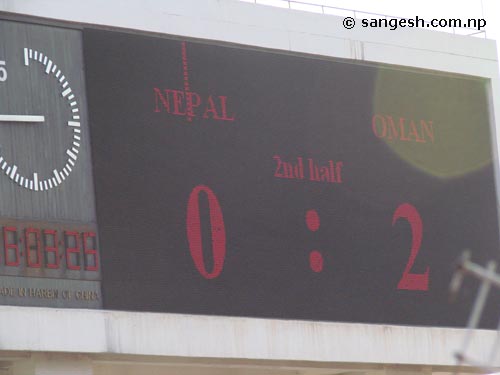 Scoreboard Nepal – Oman
11 Responses to "2010 Fifa World Cup Qualifier, Nepal Vs Oman"
Leave a Reply