Today is Shivaratri, and for the first time in my life I went to Pashupatinath on this particular day with my friend Avhishek. For me it was a new experience seeing all baba's taking puff of ganja (Marijuana).
Some incident that happen there forced me to post some of the picture.
I saw the naked baba, he was exposing his genitals, and police request this baba to no to show his genitals. Later I came to know he is a bilateral amputee.
Before this, Avishek was taking some close up picture of one baba. When this baba noticed Avishek, he shouted "CAMERA KHICCH LO" (get the camera) and ran after him. Avishek  shouted back "I have not taken your picture" and left that place.
The most interesting part was one person stoned with ganja was trying to take a short cut to Pashupatinath temple without getting in line. He tried to cross the river Bagmati, he was about to drown. Lucky him, one person saw him and dived inside the river and pulled him to the shore.
The other thing I did not like was our Holy River Bagmati, is like Holly Shit. It was not polluted few year back. But now it is disgusting to see the river. I think we general public should be aware to save the identity of our Holy River.
Anyway, it was fun to be at Pashupatinath temple today. Hey guys if you have not visited Pashupatinath on this particular day then please make it next year. You will enjoy and experience new things. Yeah off course if you like ganja, then it will be fun too. Don't fear that police will interfere. I talked to some of them, they said it's a tradition going on for centuries and we should consider it for today.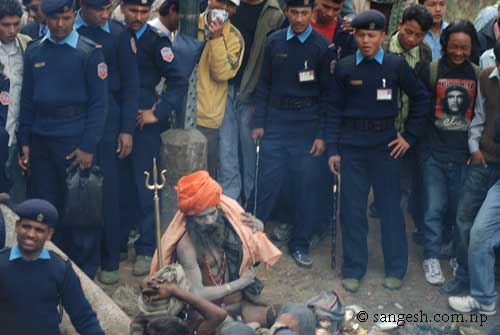 Naked bilateral amputee baba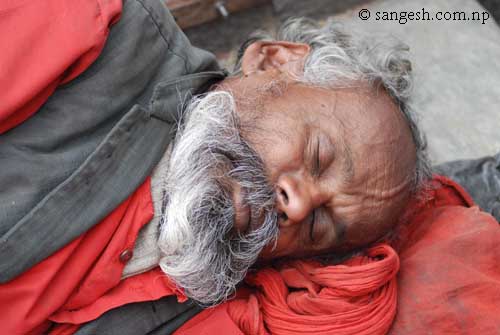 * Thank you Avishek for taking some of the picture.
14 Responses to "Shivratri and baba's at Pashupatinath temple"
Leave a Reply