Advertising boards are one of the major components of modern era's marketing system alongside with vehicle branding (check out Fleet Wrap HQ to get best vehicle wraps in Denver). These boards are made to make aware people about the product or give public information. Our city Kathmandu has also lots of such advertising boards and it is increasing tremendously day by day. Our city is known as one of the ancient and beautiful city in the world, so many Kathmandu valleys' landmarks are listed in world heritage by UNESCO, but the way we see these boards hanging around the roof and the wall of the city's building, it is losing the identity of Kathmandu as a beautiful city.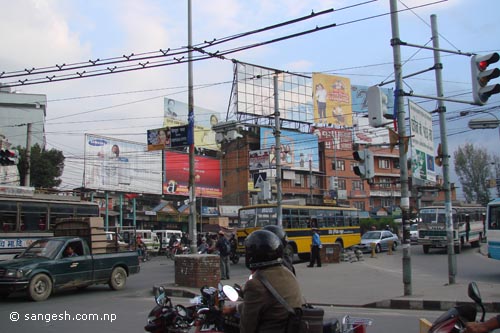 Thapathali crossing, Buildings with Advertising Boards
As we pass by some major market and roads crossing, the unsystematic and unscientific advertising boards are really making this city look ugly.
I really feel pity for the architect of the sanchayakosh building at Sundhara also known as "Kathmandu Mall". I am sure the architect cries from his heart always as he passes by the building. When the building was on construction, I thought it will be a single piece building of its own kind in Kathmandu. Before the shopping mall was establish there, it was looking great and most of the people said WOW looking at that building. But it really looking ugly now, you might ask me why?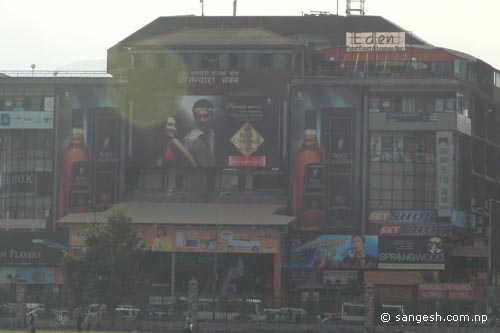 Advertising boards covering the beauty of "Kathmandu Mall"
Yeah it looks ugly because of the advertising boards covering the building. If they had plan to cover the building with the boards then what is the use of the design of the building, windows and other decorative things? They could have made the building without windows and without design, at least the architect did not had to waste his time and knowledge in thinking where and how to put the windows, which color to select for the outer walls what kind of design will give it a better look. Even the money would have been saved which was paid for the architect for his time and design.
Once Hotel now shopping mall, Blue Bird Building with new look covering it's wall with Advertising boards.
Instead of covering the building with the advertising boards, they could have put such advertising boards in different way without losing the building's attraction. I am not against the advertising boards, but I just want to request to advertising agencies that put on such boards to think about the structure of the building, the beauty of the building and the surrounding place and to think how these boards will have effect on that place and community. I hope to see that the advertising boards from some of the good looking building will be put out soon to give the best look to these building and will not make the architect cry for covering his art with such advertising boards.
Once known as China Town market infront of Army Headquater, They gave a new look with glass wall, but what the use of that glasses if they had the idea of covering it with that advertising board with a whisky advertisement.
Reference: Remodeling Company Houston.
2 Responses to "Advertising boards, Buildings and Architect's tear"
Binod Says:
December 5th, 2007 at 6:03 pm


hey man good issue …
really great that u are getting some point on this but u should have gone to jamal too… Narayangopal chok…. chabahil baneswor ( new and old) lots of them there to cover…
well no matter what this is visual pollution once the govt was cautious and removed it from Bhadrakali and some from Darbar marg well govt is only thinking about revenue or may be the govt. personal ….
this is what I really comment about this issue… cheers..

Prasanna Says:
December 22nd, 2007 at 10:45 pm


Hoarding boards! they should be banned, if you ask me..I don't think they serve any purpose at all. Its not just the fact that they are so gigantic that they cover the whole building but they just add to the misery of already pollution ladded poor old kathmandu. They are placed without planning, with irregular sizes and no apparant theme.
Advertisement is at the heart of todays commercial activity, but this is not advertisement this is visual pollution. it should be banned. Don't forget thamel even the small signboards are pollutants if not controlled. I dont mind the boards infront of singhdurbar or at Thapathali, they give us something to look at while waiting at the light and they do not cover up anykind of other view. Everywhere else its so chaotic, drastic measures have to be taken. Our city needs to change a lot of things and this is one of the small things that needs to go. If we are to continue the current trend, we might as well change our city's name to Signmandu.. (hey, is it just me or does that sound better than kathmandu..)
Jokes apart, its high time the government stopped playing the same old song and actually atarted to get some work done. The corrupted a-holes can atleast make themselves useful in one small way.
Leave a Reply