New Year's eve, it is the day when most of our friends meet all together and enjoy. Yesterday night also most of us joined at my house. Since the guys are getting busy, it's hard to organize such get together, but finally we did it this year too.
My dad always joins us and he plays his mouth harmonica and keyboard. He made all of us dance, but before that he played the tempo music of Jingle Bells from keyboard many times, and everyone was singing that song, so finally we decided to give the theme of the last year New Years Eve party as Jingle Bells, this name was suggested by my friend/brother Sakil.
If Rajesh, Liska were not there, then the party would not have been so successful. Thanks for them for cooking all the food (do I need to thank other guys by naming them and what did they do). We really missed some of our friends this year as some of them are abroad and few could not make it because of some problem.
Especially we missed Mrigesh, Sachin Joshi, Akhil, Binod, Dhiraj, Ashish motae, Sandhya Didi, Sanjeena, Sunita, Pratul, Paras, Rakesh and Siddhant (Veg). Some of the guys hurt our feelings by not keeping their words and joining us, and few came late to save our friendship with them.
Hope our new friends Dr. Niraj and sakil's friend Mr. Phillip from UNMIN also enjoyed our company. Yeah finally our BIG BROTHER Rabin dai, he got lost after 10 pm before he could eat the special BBQ of chicken which he cooked. It is always fun to be around him, we waited him till midnight.
Let our friendship be always like this staying together in good and bad times and available when we need each other. We hope to celebrate all the New Year eve till we are in this earth.
Bye Bye 2007, we won't be able to meet again, as time never comes back.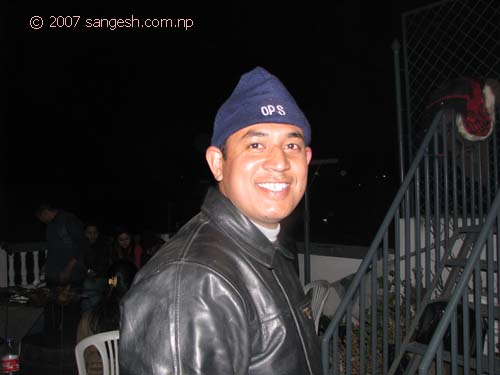 Rajesh
Liska Bhauju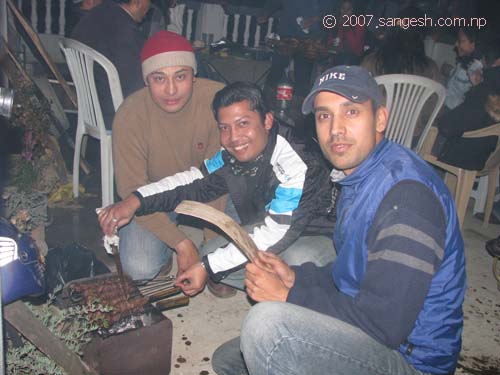 when did u guys started this Business?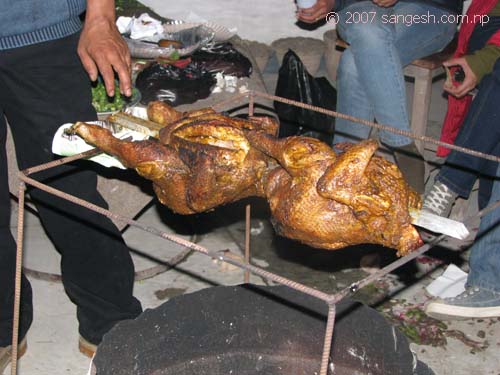 Wow, let's start this new business too
What are you doing avee, Yaar hijo ko masu le pet dookhyo bhanna lai?
Is it ready Rabin dai?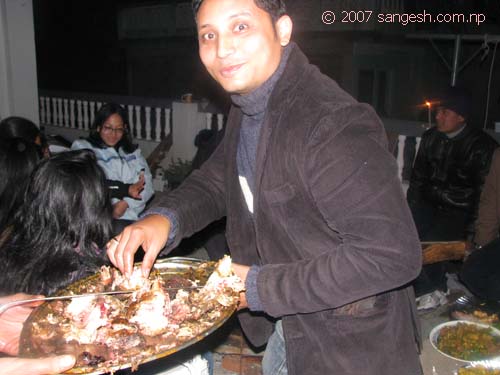 Mr. Chicken Lover 😛 we haven't forgot what you did few years back.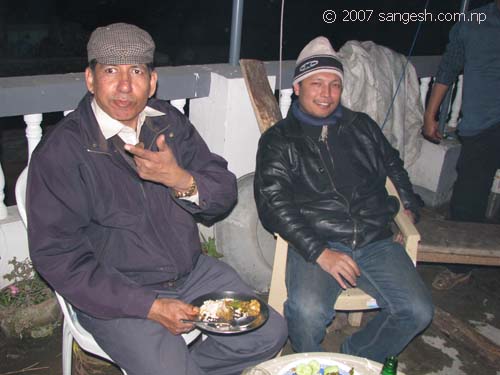 Dad and Dr. Niraj
Sakil and Phillip from UNMIN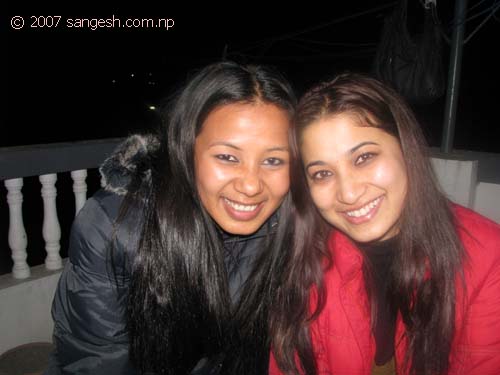 What's goign on girls, kina yesto SMILE?
Late aaune Chiken lover Mr. Jesis and Reja ( middle )
Alee is always surrounded by ….. ( girls ni aaba )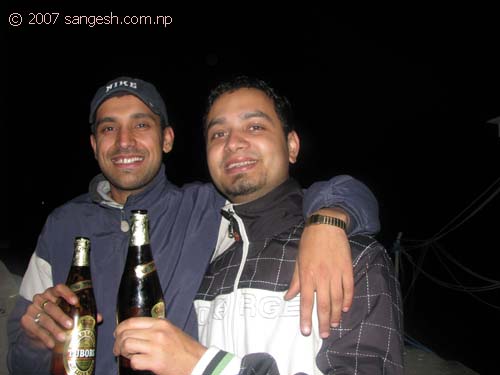 Double A holding B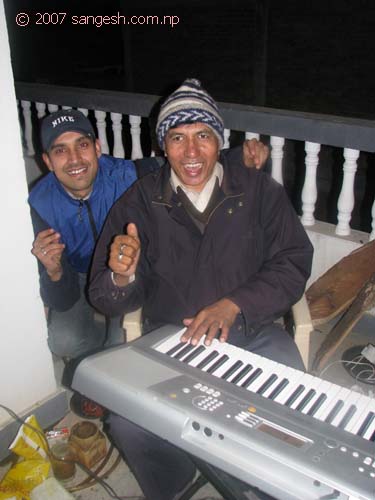 They are having lots of fun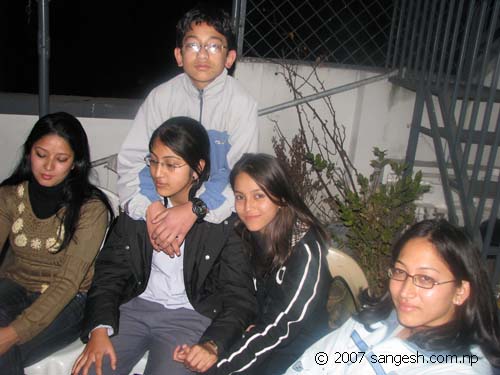 are you guys bored?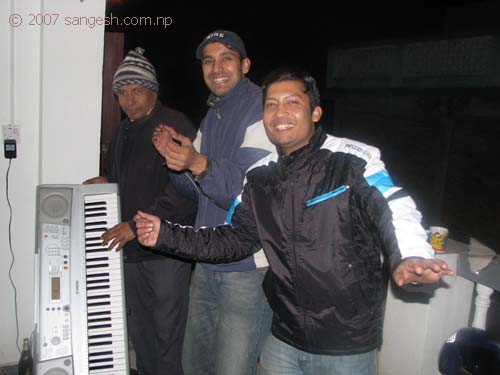 Kem choo, maaje mey choo?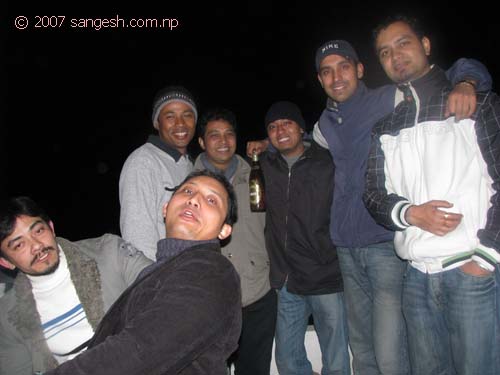 Akash , what happen? Jhyaap bhaideko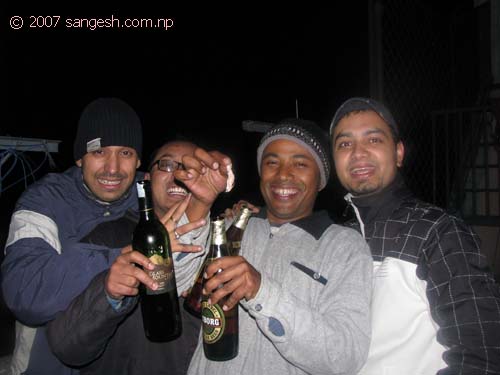 Sunil, k ho tyo, jesis ko chicken lootish ki kaso?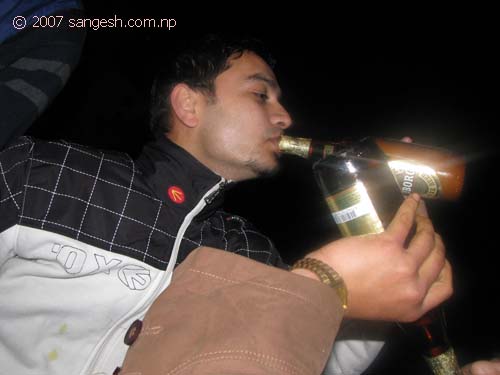 Ashish ko Final Shot of the year 2007
11 Responses to "Jingle Bells Night"
Leave a Reply