Lumbini, popularly known as the birth place of Lord Buddha, The Light of Asia, founder of Buddhism. This was my second visit to Lumbini, many years ago I was there, and I have some vivid images of that World Heritage site. This trip to lumbini was a short and a quick one.
I heard so many things about this place after it was placed in World heritage site by UNESCO. They said that there is a rapid change and the place looks really beautiful.
I was very much excited to go there once I heard about Lumbini.
Once I reach Lumbini I could not stop my emotions, I got impressed by Lumbini. In coming years it will be one of the main tourist attraction of Nepal. I found a huge difference there, when I compared the current lumbini with vivid image I had in my memory when I visited that place 20 years ago. There were some research going on, digging were going on I guess as we saw only the old remains of some building there, the park was not like as it is now, I think there was only one temple, Now they have plan to make each temple from different country and already half a dozen countries have already made temples under their country name. The temples are really attractive. The German and the Thai temples are really WOW. I think Korean temple will look better after it is completed.
There is an artificial lake, I hope they will try to make it look better with more plants and trees around that pond to make it look better. Still many construction works are going in and around lumbini. I hope they have plans to make it more attractive and preserve the world heritage.
In my 1 hour tour around Lumbini, I took some snaps. I am sure after watching these snaps you will visit Lumbini at least once and say WOW.
I took this picture on 3rd January 2008.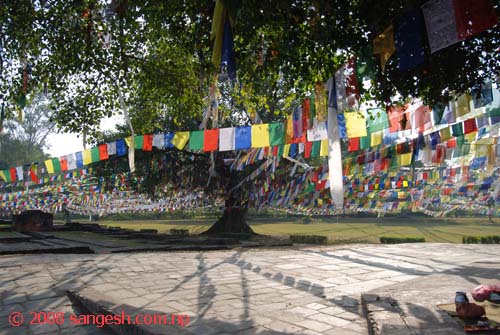 This really looks so beautiful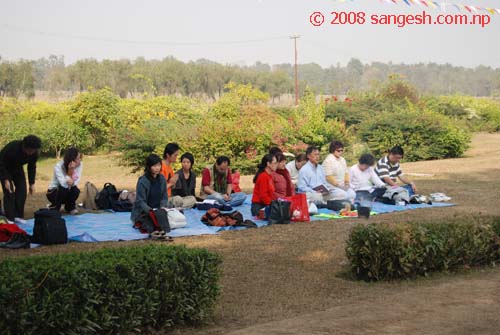 Devotee performing prayer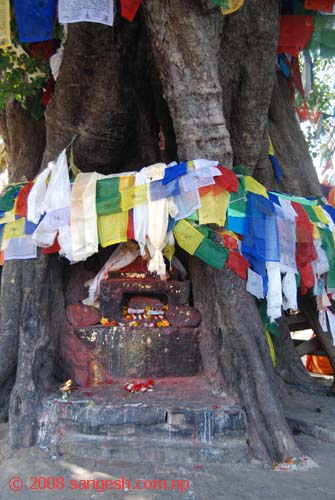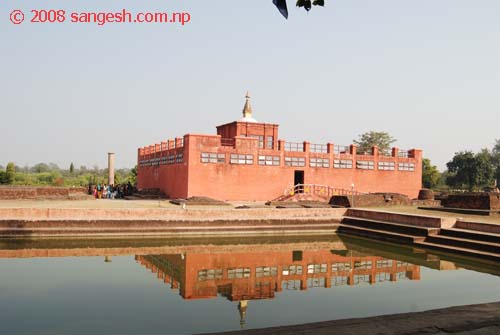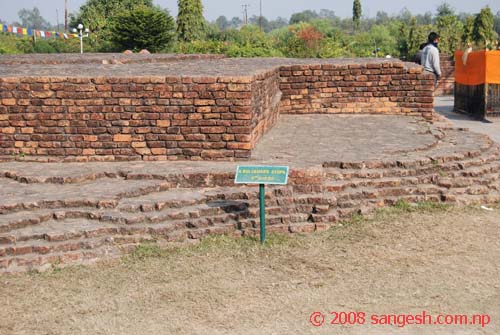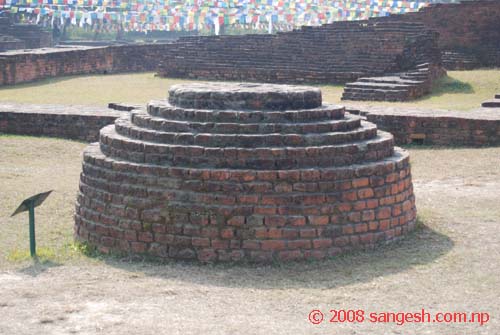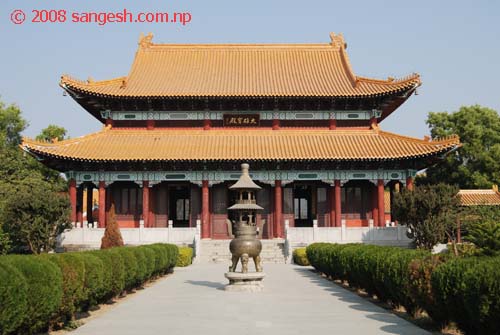 Temple made by China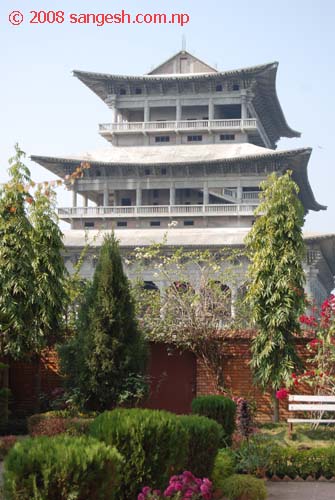 Construction work goign on of Korean Temple, I bet it will add more beauty for Lumbini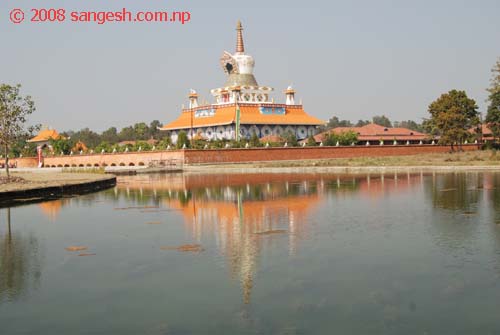 It's simply wow, German temple.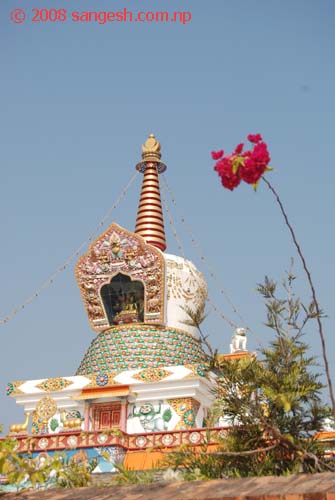 Stupa of German Temple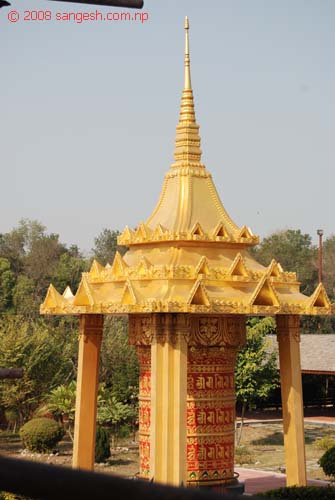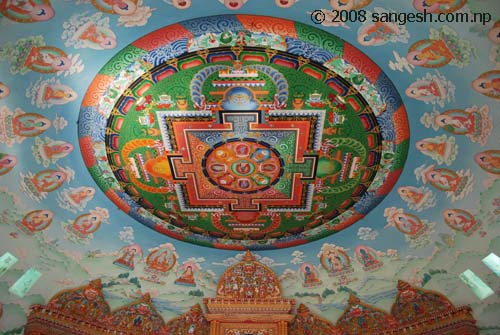 What is this, can you make a guess?
It's a ceiling painting of Thanka inside the German Temple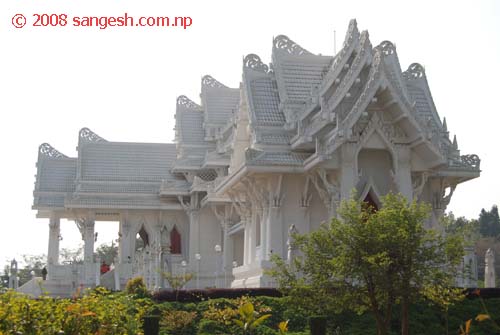 Temple made by Thailand. Inside there is a small museum and many things detailing about Thai Monarch.
3 Responses to "Lumbini one of the place you should visit once"
Binod Says:
January 14th, 2008 at 9:25 am


Hey man u missed a lots of shots man that's not good ….
that's the best but u shouldn't have forgotten the ashok sthambha… that's an identity for the birth place of budhha.
well lot more then that …. where is that big white marvel sthupa..
well that's the complaints but the best part is visiting to lumbini… it itself is really great thing so peace so terrific u just wanna be there all the time…..
when u be at the artificial lake … u can see on the horizon and sit there to see the sunset. wow man … I know that… how it feels..
but u konw what u should do sangesh u should write a blog on the indians claiming and trying to say that buddha was born in India…..
here abroad they try to advertise that. and we always have fight with them about the birth place….
that's why I was imphesizing the importance of Ashok sthambha.
and also they even claim that in their book.. really sucks
Above all…
buddha, the light of asia.
and buddhism …. the best thing happen to the world …. and everyone should follow…
cheers mate
Binod

sangesh Says:
January 14th, 2008 at 2:28 pm


Hey Binod, i did not had enough time to go around, i just asked the risksaw wala to take me to few of the international temples, so he took me to selected ones. Yeah abotu Asoka Piller, i just missed it coz of rush. I have to visit that place once again, planing to do some meditation over there 😛 it is really so cool place to make u r self calm and internal peace.

Venkat Says:
April 11th, 2008 at 10:13 am


Hi, how is Lumbini during April-May – weather wise?
and also with teh recent elections – is it a good time to visit during lat April or Early May?
Leave a Reply