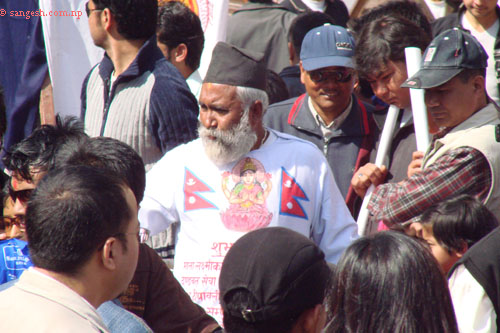 This picture was taken on the Rally day of nepal sambat 1128
I hope the person on the picture is noticed by most of the Kathmandu valley's people. He is seen at different places of Kathmandu. Last time when I saw him was near the Naryanhiti Royal Place just by the side of a banner which was there place to wish the Queen Komal on her birthday. Was he there to wish the queen's on her birthday or to celebrate the Democracy day? Both queen's birthday and democracy day are on falgun 7.

He was seen at people movement also. I don't know what he really wants or what he wants to prove. Some time we can see him managing traffic in absence of traffic police, sometimes with a banner whishing the friendship between NEPAL – USA. He is forever green person seen at any occasion or function with our national Flag over his chest.
Who is this old man? I am so curious to know about him. Why is he always with a white dress where some thing is written either about Bad Politics, with Good Wishes or Patriot Message?
Is he a real patriot?
I think we have to salute him for his work, I don't think he is politically motivated, otherwise he would have got at least 1 seat from one of the major political party.
Hey dear friends who have gave me positive response to my blog, I would like to request you if you have any information on this old man then please write if down under comments.
6 Responses to "Is he a real patriot?"
Leave a Reply