What is polymer note?
"Polymer banknotes were developed by the Reserve Bank of Australia (RBA) and the Commonwealth Scientific and Industrial Research Organisation (CSIRO) and were first issued as currency in Australia in 1988. These banknotes are made from the polymer biaxially-oriented polypropylene (BOPP) which greatly enhances durability of the banknotes. Polymer banknotes also incorporate many security features not available to paper banknotes, making counterfeiting much more difficult." – From wikipedia.org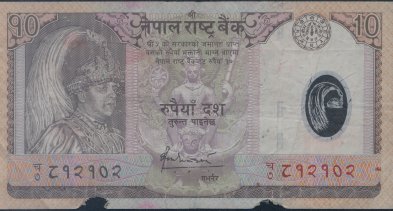 A Rs. 10 Polymer Note
In February 2002, for the first time in Nepal's history, Nepal Rastra Bank (Central Bank of Nepal) issued a 10 rupee polymer banknote. We were pretty much excited to see how a polymer note looks like. As the time passed by there were many issue regarding such kind of notes.

The main problem is that if it gets torn, the shopkeepers would reject such notes. In most cases it is not acceptable like more common paper note.
The other problem is the coating of the note. The coating wears off and it looks like a plain plastic sheet. Such kinds of notes are also not accepted by many shopkeepers. I have found even the private banks have been rejecting them.
But today I am not going to talk about the above mentioned issue. The issue is different which I faced few weeks back (since I was having my exams, I could not write about it at that time). You can see a Rs. 10 (on the top of this post) polymer note. Do you see any reason for it to get rejected by a shopkeeper?
Every Saturday I go to the Shankata Temple to offer prayer and to light diyo. That day too I went and bought the diyo and gave this particular Rs.10 note. The shopkeeper rejected it saying that it is not useable. She said that it has burned little and even the banks will not accept it. My bad luck, I was not carrying any extra money that day, I just had this note. I tried to convince her that bank will accept it as it is issued by a bank and there is nothing wrong with the note. It still contained the note serial number. Listening to this, she got mad at me. I was not able to buy the diyo and had to return without offering diyo to the god.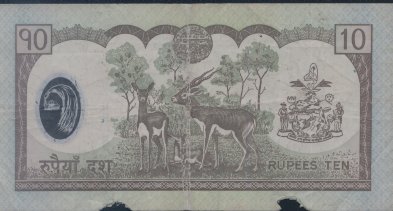 you can see the some lower part of the note is burned (black spot)
I have some question now,
Is that note not acceptable?
Why are people afraid to accept such note?
Who's fault is it that people are afraid to accept such notes? Is it due to lack of information about the notes?
Why did the NRB (Central Bank of Nepal) make such cheap quality notes? We have seen many notes coatings have half disappeared. They can also be easily torn down.
4 Responses to "Polymer banknotes in Nepal and the problems faced by people"
Leave a Reply