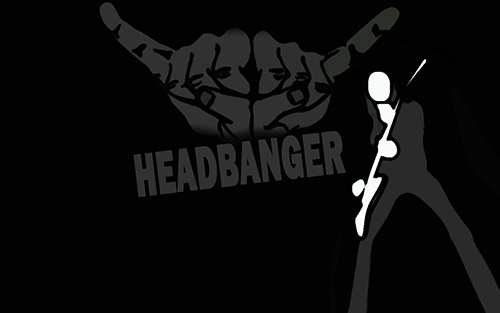 Before I talk about the songs that made me a head banger, I want to share my opinion on hard rock and heavy metal music. Music pundits try to separate these two genre of music as different sect of the rock music, but for me they are synonymous to each other. They play fast, they are loud, and they scream and have great guitar riffs. We cannot differentiate some bands. We find they are part of heavy metal but they say we are not heavy metal band and some bands do not sound like heavy metal but are in the list of heavy metal band.
I think this discussion will never end who are hard rock and who are heavy metal, so for me they all are same with fast guitar and great riff with great lyrics who makes you bang your head.
I want to list some of the bands and their specific songs as my early days influence to heavy metal and hard rock. I am not going to rank the bands or songs as these songs and band are all great. As a head banger, I am not a follower of a specific band and abuse others as I have been seeing some comments from hardcore fans of Metallica and Megadeth abusing each others.
The song listed here are the ones, which made me a head banger so I think the young kids who want to get the taste of heavy metal / hard rock better listen to them and I am sure the next thing you will do is label yourself as a head banger.
Afraid to shoot stranger
Fear of the dark

Blackout
Rock you like hurricane

Rock Rock till you drop
Hysteria
Too late for love

Wild side
Girls girls girls

Estranged
You could be mine
Welcome to Jungle

You got another thing coming
Ram it down
Breaking the law
Turbo Lover

Highway to hell
You shook me all night long

Crazy Train
Bark at the moon
There are still many bands from 70's and 80's, who are influential to this genre of rock music. The list will never end. There are some bands in recent years too, which has made me feel that the taste of 70's 80's will not end. I liked this band Airbourne form Australia, somewhat they resemble AC/DC. Beside that, my ears liked the sound of Hammerfall a Swedish band.
I need to update myself with current bands and music, it would be a great help for me if the readers of this blog drop some comments about new bands so that I can be up-to-date with some good head banging music.
Picture taken from: http://www.wallpapergate.com/data/media/5036/Headbanger_48754.jpg
3 Responses to "Hard Rock / Heavy Metal songs that made me a Head Banger"
shisir Says:
November 11th, 2013 at 7:44 am


hi there, i am a headbanger too. i am studying in college and i guess i am the only headbanger of my class and i have quickly figured out that there are not much people who love metal music.i don't think i am up to date but recently i listened to this band named 'havok' , a thrash metal band from america. here are some songs from this band that made me bang my head. hope u'll like them.

1.Prepare for attack
2. point of no return
3. covering fire

long live metal \,,/

Brett Stevens Says:
November 11th, 2013 at 6:25 pm


You might want to include more from the NWOBHM years, since your taste seems to go that way. Lars Ulrich's "'79 Revisited" comp is a good place to start.

sangesh Says:
November 11th, 2013 at 6:27 pm


yeah you are right, i am mostly into NWOBHM and now trying to get more into power metal from 80's and 90's
Leave a Reply