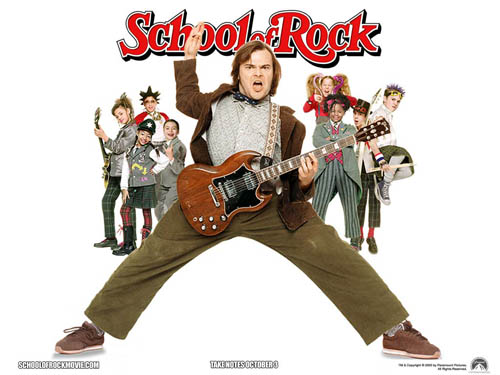 For Those About to Rock We Salute You
Being a fan of Rock music, I hate people who hate rock. Rock is not about long hairs, drugs and sex. Rock is that category of music which you need to feel. It is like fuel for life too. It gives you energy. Rock has been divided in many categories and sub categories and they have their own class and style of playing music.
Now-a-days we do not get the music that the rockers from 70's, 80's till mid 90's created, but it is not dying. We may feel that hip hop and other kinds of music are taking the market. But they won't make you feel what rock gives you. There are so many evergreen rock songs which I guess you will love till you get old. You will love to sing them.
I was watching Indian Idol, and of the judge Javed Akthar, hearing to his comments, it really hurts as a rock fan, he does not count rock music as music, song as a song, singer as a singer. One guy who participated in that show, having a looks like a rocker, another judge Anu Malik was impressed with his singing style of English song, but Mr. Akthar said, what is this, is this singing? Is this music? Only Indian music is accepted in Indian Idol. It is really a pity the way he looks at rock music. I think in his opinion it is easy to create rock song and anyone can sing a rock song.
He was proud of his Indian music. Yeah true, he should be and I too like Hindi songs and music but what about the Indian musicians copying the themes from rock songs. Song like, "Final Count Down – Europe" in the movie Maine pyaar kiya, "Child in Time –  Deep Purple" in the movie movie Maan. This list can go on and on. I think Mr. Javed is not aware of them.
In recent days, there is a big hit Hindi movie "Rock On".  Though it is a story about the 4 friends who create a band Magic, It really displays the Indian Rock scenario. It shows how these guys are passionate about rock music, winning a rock competition, and having a hit song rock music video. It also shows the dark side of Indian music where Rock is not counted by some of the music company like Mr. Javed. Due to some misunderstanding these guys disbanded, their life is changed, but their passion for rock is alive inside them. So, after 10 years they unite and perform a live concert. This is what all Rock means to rock fans. Still concerts tickets of Pink Floyd, Deep Purple, and Jimmy Page Robert Plant goes full house. People still love Mike Jagger and Ozzy Osbourne. Even though, Guns N' Roses have created some bad reputation due to some problems; people still buy their tickets to watch Axl Rose.
Few years ago, there was a movie form Hollywood "School Of Rock" starring Jack Black. The film was written specifically for Black by Mike White and directed by Richard Linklater. Mr. Black wanted to make this movie as an awareness program for the new generation of rockers. I heard in one of the TV show that he was afraid the kids will forget rock as they were influence by Hip Hop music. In my opinion this movies inspire the kids towards music. They will know what rock music is actually all about. He has also tried to show some guys as a bad guy of rock music who are into drugs and sex and one kid getting influence towards it. But at the end he proves that rock music is all about ROCK MUSIC. It has nothing to do with long hair, sex and drugs. It shows that you need to have passion for rock music, trust between the rock members. It inspires you to bring out your potential to create music, write poem in the form of song, show your anger, grief, pain and happiness.
Thank you Mr. Jack Black for presenting such a great music to save ROCK MUSIC.  Thank you creator of Rock On, it really makes you feel that you are a part of that movie. Until and unless such movies are there, rock never dies. It is just what we need to show people such music, make them listen to rock music. Some of the Rock song recommendation from me to those who have bad opinion on rock music.
Time – Pink Floyd
Unforgiven – Metallica
Hysteria – Def Leppard
Stairway to Heaven – Led Zeppelin
Sweet Child O Mine – Guns N' Roses
Wish You Were here – Pink Floyd
Wind of Changes – Scorpions
AFRAID TO SHOOT STRANGER – Iron Maiden
Turbo Lover – Judas Priest
Come on Feel the noise – Quiet Riot
High way to Hell – Ac\Dc
Paranoid – Black Sabbath
Highway Star – Deep Purple
Good bye to Romance – Ozzy Osbourne
The list is never ending and rock music never dies, Rock Rock Till you drop.
5 Responses to "Rock Never Dies"
Leave a Reply