This year Nepal Sambat has been recognized by Nepal Government. It is big news for the Kathmandu Valley Newars; they have been celebrating this day every year and raising the voice to get official recognization from the government. Here I have tried to capture some wonderful moments how people celebrated this Nepal Sambat New Year 1129 at Basantapur.
I saw some tourist celebrating this festive time with local nears too and some watching it in exciting way. I read in someone's blog who has visited Nepal saying that Nepal celebrates so many new years. Yeah I think we're rich in culture and so many ethnic group lives with their own identity and they all have their own New Year.
Some new year we celebrate is
Bikram Sambat – North Indian calendar named after King Bikramaditya. It was adopted by the Shah Kings
Nepal Sambat – Celebrated by the Newars, it is celebrated on the day of Maah Pooja fourth day of tihar. It is said that on this day, a newar Business man Shanka Dhar Sakhwa paid all the debt on behalf of the people of Kathmandu Valley, so the newar started celebrating it as a new life for them. So every year they started celebrating it as a new year.
Loshar – Tibetans, Gurung and Tamang have their own loshar as New Year
International Calendar – January first, this is a new year I think whole world celebrates.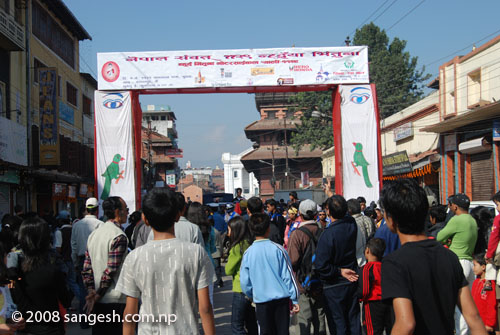 Welcome gate at Basantapur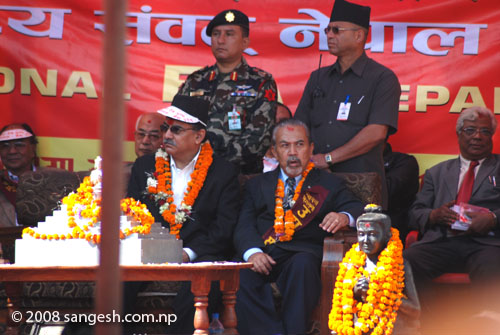 2 people, 2 party members looking at opposite side, koora milena 🙂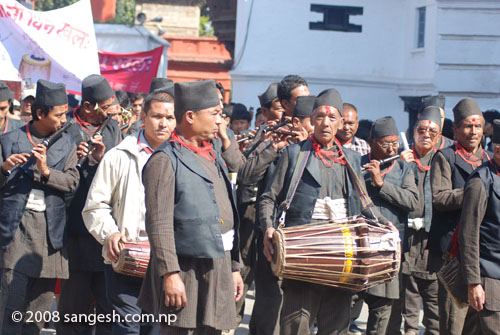 Nhu daya Bhintuna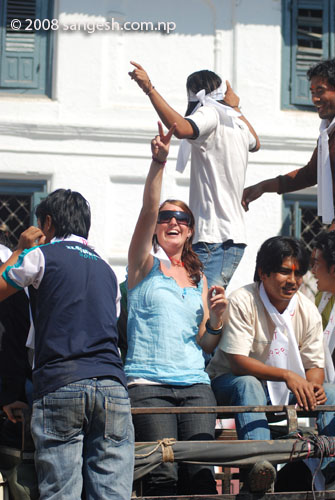 Happy New Year Guys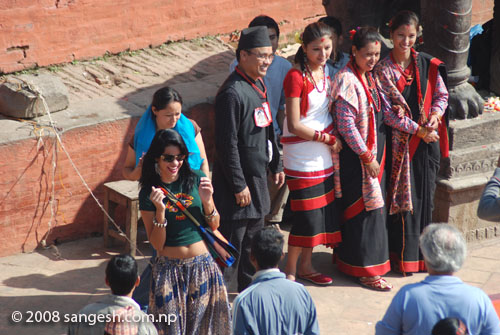 Yeah, how do I look with these beautiful ladies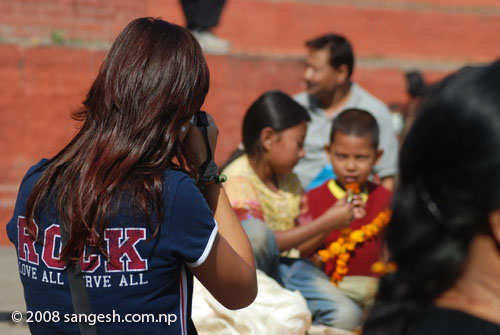 Photographer rocks the world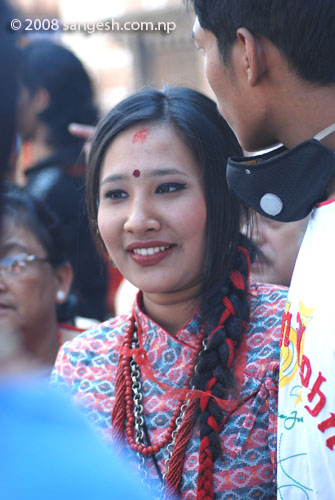 Hey guys, don't look at me this way, I am blushing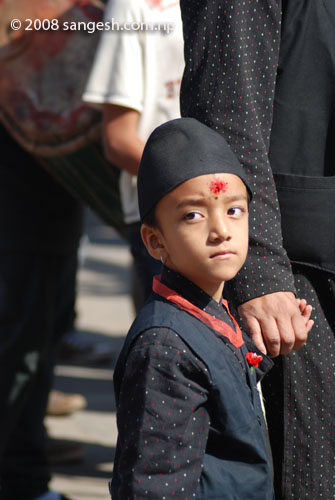 Proud to be a Newar
What are you looking at ?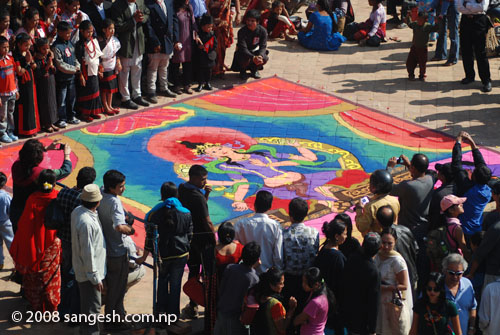 Artistic hands pays off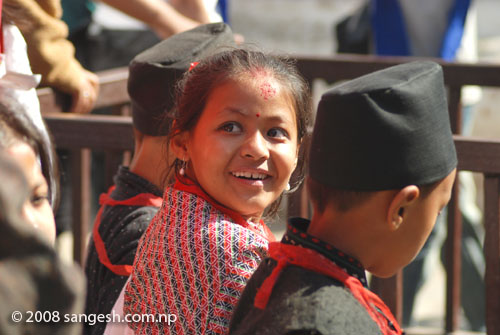 Hahaha, we are having fun in this rally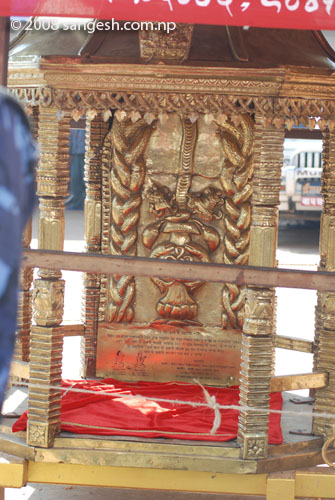 Living God Kumari's simhasan I guess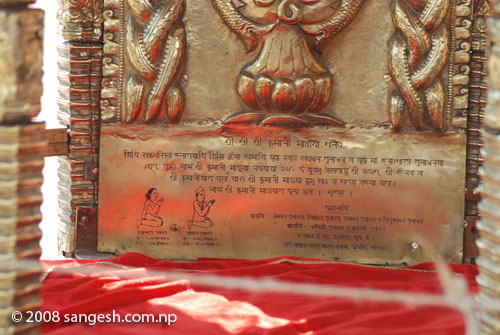 If any one knows Ranjana Lipi then please translate it for us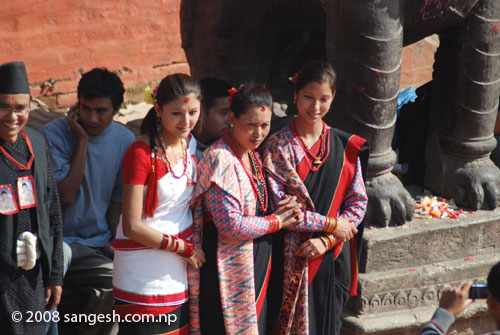 Hey do we look great in Newari dress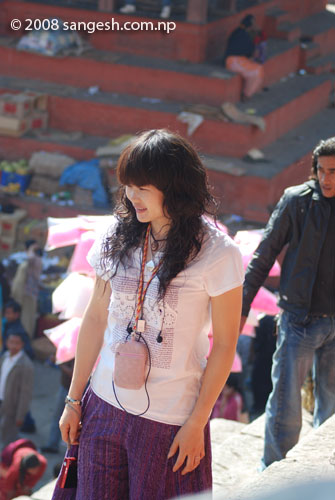 Tourist enjoying the Nepali festival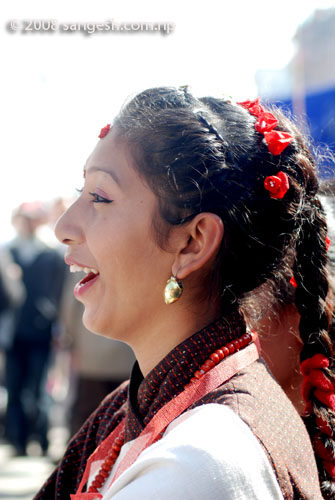 hahaha, it's fun to be around, so many guys watching me
2 Responses to "Nhudaya Bhintuna 1129 Nepal Sambat"
Mrigesh Says:
October 30th, 2008 at 12:45 am


Nice Pics and Comments!!

One thing came in my mind that we have to be clear that Nepal Sambat not only belongs to Newars, but it should be for all the Nepalese people. I think Newars thinks it as "ours" and others think it as "Newar's only".

Same thinking applies with the food such as Yo:Mari, Bara, Wooh, Chatamari, Choela ect. Until and unless Newars stop putting rubber stamp on these foods and others think it as an ethnic Newari food only, this will not become a common "Nepali Food".

When international friends ask us about Nepali food, we won't be able to answer them other than, "It's the same, as Indian food, except we put little less masala/spices"

Ashok Shrestha Says:
June 17th, 2010 at 4:27 pm


Appreciative Job,
Thanks for your contribution for all of us….
Leave a Reply